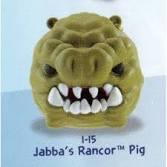 Rancor are a creature of the planet of Dathomir, Jabba the hog have one in your palace used only for birds or pigs do not obey him and challeng his authority, the Rancor devoure the challenger in your puddle.
appearences
Edit
He appear only in toy form in a play set, no in the two games.
Ad blocker interference detected!
Wikia is a free-to-use site that makes money from advertising. We have a modified experience for viewers using ad blockers

Wikia is not accessible if you've made further modifications. Remove the custom ad blocker rule(s) and the page will load as expected.